Fat Axxes wants to make sure you're as comfortable as possible and enjoy your axe throwing experience. Here's the answers to our most common questions. Have something you feel should be added? Give us a call and let us know so that we can improve our service in the future!
---
Where are we located?
2790 Robbins Ave Niles, OH 44446
---
Where should I park?
Please park in the highlighted region or across the street in the plaza parking lot. After 6:00pm, customers may park next door at Dean's Power Equipment, in front of Fat Axxes, and/or in the plaza parking lot.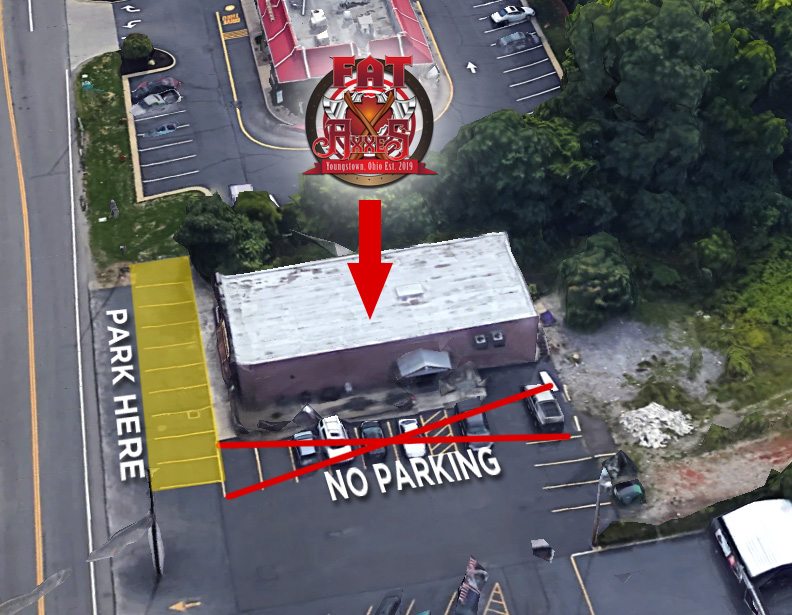 ---
What are the Hours of Operation?
Monday : CLOSED
Tuesday: CLOSED
Wednesday: 6pm until 10pm
Thursday: 6pm until 10pm
Friday: 4pm until Midnight
Saturday: Noon until Midnight
Sunday: CLOSED
---
How much does it cost?
$20 per person OR
$80/ per hour UP TO SIX PEOPLE
$60/ per hour ADDITIONAL LANES
How many people per lane?
6 PERSONS MAX PER LANE per HOUR
---
Are there special rates for parties?
Yes. Please call for special booking rates.
How Long do Sessions Last?
Sessions are for 1 hr at a time. During your first session you will be assisted with an instructor for the first 30 minutes.
---
What Time do I need to arrive for my booking?
All parties must arrive 15 minutes prior to your registered time slot. Failure to arrive on time may forfeit your time slot accordingly.
Is there a BYOB clause?
Yes! Guests are welcome to bring their own beer. Fat Axxes will also have non-alcoholic drinks available for purchase.